Trump Orders Investigation Into 'Very Sad and Tragic Death Of George Floyd'
George Floyd, a 46-year-old African-American man, died on Monday after being handcuffed and pinned to the ground by a police officer's knee, The tragic incident was recorded on video and incited large protests in Minneapolis on Tuesday and Wednesday.
On Wednesday, the Minneapolis Police Department identified the fired officers as Derek Chauvin, Thomas Lane, Tou Thao, and J. Alexander Kueng.
The arrest of Floyd took place Monday evening. The Minneapolis Police Department said officers responded to a call about a man suspected of forgery. The police said Floyd was found sitting on top of a blue car and "appeared to be under the influence."
"He was ordered to step from his car," the department's initial statement said. "After he got out, he physically resisted officers. Officers were able to get the suspect into handcuffs and noted he appeared to be suffering medical distress."
Minneapolis mayor Jacob Frey said on Tuesday that he did not know how the initial police statement, describing a "medical incident," had come to be written, but he said he wanted to be "absolutely transparent as possible."
"It's the kind of thing where you don't hide from the truth, you lean into it because our city is going to be better off for it, no matter how ugly, awful it is," he said. "If it points out the institutional racism that we are still working through right now, well, good — it means that we've got a lot of work to go."
Initial reports also said Floyd resisted arrest. However, new video showed that to be not true.
Video shows the Minneapolis police officer pressing his knee into a black man's neck during an arrest, as the man repeatedly says, "I can't breathe," and, "Please, I can't breathe."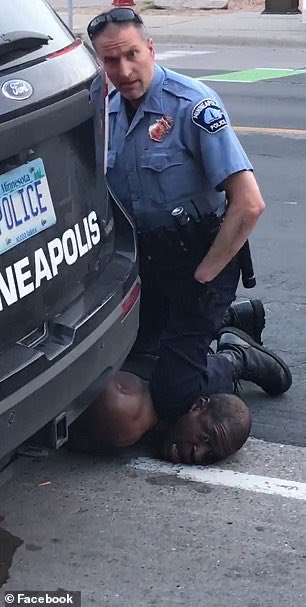 The video then shows after a few minutes, Floyd, lying face down in the street with his hands cuffed behind his back, becomes silent and motionless; the officer continues to pin Floyd to the pavement with his knee.
Bystanders plead to the officer to stop, telling him Floyd's nose is bleeding. Another officer faces the people gathered on the sidewalk. Soon after an ambulance medic arrives and, reaching under the officer's knee, feels for a pulse on Floyd's neck.
The medic then turns away, and a stretcher is wheeled over. Floyd is then rolled onto the stretcher, loaded into an ambulance and taken away.
The video doesn't show what had happened before the officer pinned Floyd to the ground by his neck.
Floyd's relatives have said that the officers should be charged with murder. "They treated him worse than they treat animals," Philonise Floyd, Mr. Floyd's brother, told on CNN. "They took a life — they deserve life."
Upon hearing about the death of George Floyd, President Trump Tweeted out saying he has requested the FBI and Department of Justice to investigate.
On Tuesday afternoon, the Minneapolis mayor tweeted that four officers involved in the case had been terminated. "This is the right call," he said.
Help Milne News stay online and continue our great work in bringing you the News Reported Raw, Real and Truthfully…No BS…Any donation is greatly appreciated:
Thank you for your support.
Or Via Stripe: any kind of credit or debit card: Visa, MasterCard, American Express, JCB, Discover, and Diners Club. (NO SIGN UP REQUIRED)
Get the latest news delivered straight to your inbox for free every day by signing up below.
[email-subscribers namefield="YES" desc="" group="Public"]