One Man Dead, Another Wounded In CHOP After Shooting Overnight
Seattle Police have confirmed CHS's early reports on the shooting and say that a 19-year-old is dead and that there have been no arrests.
Capitol Hill Seattle reports:
On June 20th, at approximately 2:30 AM, East Precinct officers responded to a report of shots fired in Cal Anderson Park. This is inside the area referred to as the Capitol Hill Organized Protest (CHOP). Officers attempted to locate a shooting victim but were met by a violent crowd that prevented officers safe access to the victims. Officers were later informed that the victims, both males, had been transported to Harborview Medical Center by CHOP medics. Officers responded to Harborview and were informed that one of the victims, a 19-year-old male, had died from injuries. The other victim, also a male, unknown age, remains in the hospital with life-threatening injuries. The suspect or suspect(s) fled and are still at large. There is no description at this time. Homicide detectives responded and are conducting a thorough investigation, despite the challenges presented by the circumstances.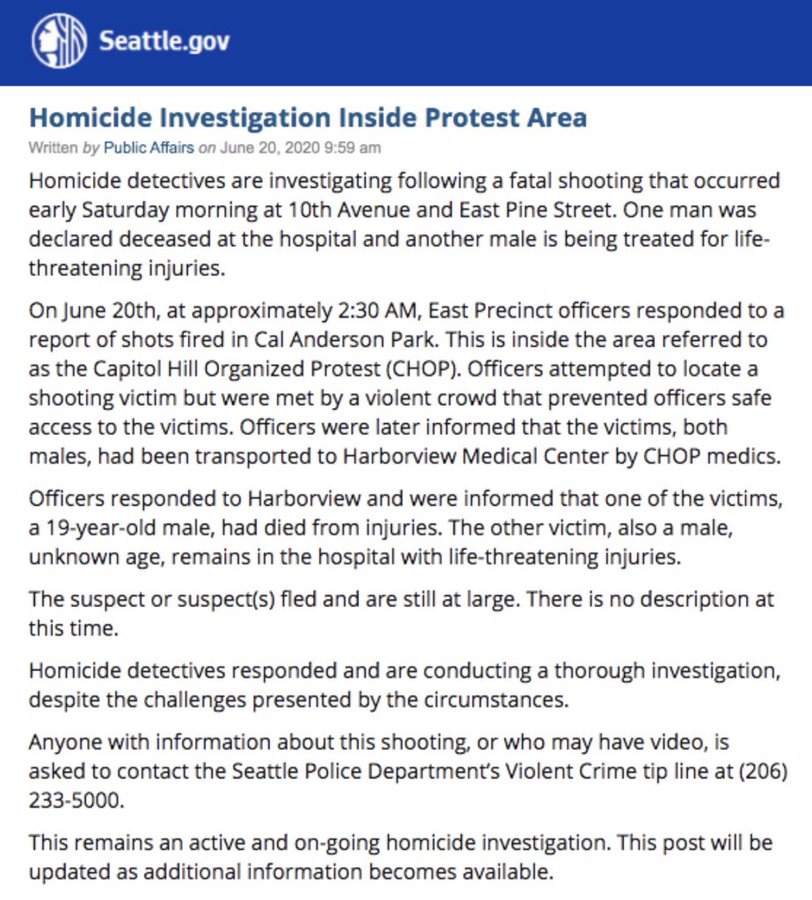 A security employee working in the area reported the shooter had been in a black SUV that arrived in the area on E Pine. A 911 caller told police a man carried a rifle out of the SUV before gunfire erupted, according to East Precinct radio updates. The man who was killed was hit by multiple shots on the southwest corner of E Pine in front of the Odd Fellows building. Camp security was reported following the suspect after the shooting.
There have been no reported arrests by police.
Police are asking for the public's assistance in gathering evidence. Anyone with information about the shooting or who may have video from the incident is asked to contact the Seattle Police Department's Violent Crime tip line at (206) 233-5000.
UPDATE:
Statement on the shooting at the Capitol Hill Organized Protest (CHOP).

Deepest condolences to loved ones of the black protester tragically killed this morning by gunfire at CHOP.

We need solidarity with the occupation and against reactionary violence.https://t.co/cxFEzwp7Wj

— Kshama Sawant (@cmkshama) June 20, 2020
Help Milne News stay online and continue our great work in bringing you the News Reported Raw, Real and Truthfully…No BS…Any donation is greatly appreciated:
Thank you for your support.
Or Via Stripe: any kind of credit or debit card: Visa, MasterCard, American Express, JCB, Discover, and Diners Club. (NO SIGN UP REQUIRED)
Get the latest news delivered straight to your inbox for free every day by signing up below.
[email-subscribers namefield="YES" desc="" group="Public"]