Witness Testified Bill Clinton Was On Pedo Island with Jeffrey Epstein And 2 Young Girls
2 min read
A witness testified in an interview that Bill Clinton was at Jeffrey Epstein's pedophile island with Jeffrey Epstein, Ghislaine Maxwell and "2 young girls."
A federal judge unsealed loads of pages of transcripts as well as other documents related to a now-settled defamation suit brought against Ghislaine Maxwell, who helped Jeffrey Epstein run a sex trafficking operation that catered to rich and powerful men.
Within those documents, we find out that a witness testified former President Bill Clinton was on Epstein's little St James Island with the pedo billionaire and Ghislaine Maxwell.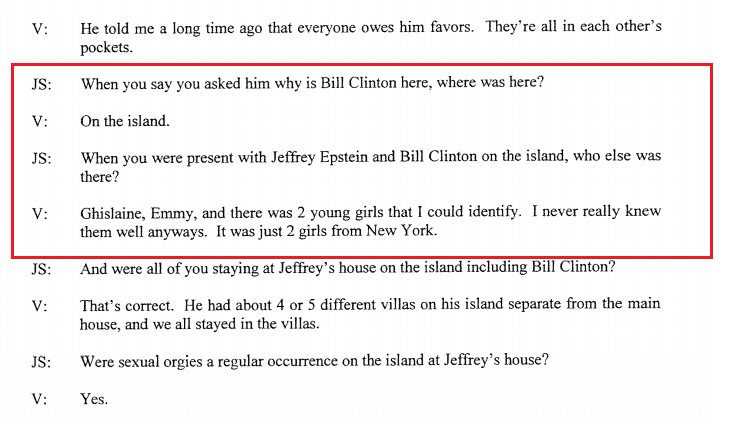 It doesn't stop there and there are a lot more documents to sift through so stayed turned we're currently going through everything and fact-checking reports out there as many are fake or spinning the truth.
In the meantime, one revelation going viral right now (which isn't really a revelation because we reported on it ages ago, but many are discovering about it just now) is that Epstein victim Virginia Giuffre testified that Donald Trump had nothing do with what Epstein was up to.
If you would like to download the unsealed Ghislaine Maxwell documents you can do so here.
Hat tip to OZ Sultan for backing it all up:
Since the #EpsteinFiles took @cernovich's website down – we downloaded them and put them on #googledrive

It's 64MB – so pull it down on a laptop or desktop #StopChildTrafficking #HumanTrafficking #endchildtrafficking @breannamorello @montaga https://t.co/zp4VfSAfoc

— Oz Sultan (@ozsultan) July 31, 2020
Help Milne News stay online and continue our great work in bringing you the News Reported Raw, Real and Truthfully…No BS…Any donation is greatly appreciated:
Thank you for your support.
Or Via Stripe: any kind of credit or debit card: Visa, MasterCard, American Express, JCB, Discover, and Diners Club. (NO SIGN UP REQUIRED)
Get the latest news delivered straight to your inbox for free every day by signing up below.