CHICAGO RIOTS: Over 100 People Arrested Overnight and 13 Officers Injured
5 min read
Hundreds of people rampaged through the Magnificent Mile and other parts of downtown Chicago early Monday, smashing windows, looting stores, and clashing with police for hours.
Chicago Police Superintendent David Brown said as of Monday morning, responding units have arrested more than 100 people so far on charges ranging from disorderly conduct to battery against police. He added that 13 officers were hurt in the riots, including a sergeant struck in the face with a bottle and an officer who had his nose broken while scuffling with a group of looters.
"This was not an organized protest. Rather, this was an incident of pure criminality," Brown told reporters. "This was an act of violence against our police officers and against our city."
Brown also said a security guard and a civilian are now in critical condition at a local hospital after being hit with gunfire during the looting overnight, and he said that five guns in total have been recovered.
"I, for one, refuse to allow these cowardly acts to hold our city hostage," Brown said. "CPD will not stand by as our beautiful downtown becomes some place that people fear."
Brown said he has now ordered detectives to go over high-definition footage of suspects and vehicles from the looting scenes, clearly stating that more arrests will be coming.
Around 4:30 a.m Police officers stopped several people on Lake Street near Michigan Avenue when shots were fired from a car passing by. This happened hours into the riots, according to police spokesman Tom Ahern.
No officers were shot, However, a squad car was hit. It was not known if anyone in the gunman's car was shot.
Police spokesman Tom Ahern also confirmed that other officers were injured throughout the night.
Earlier in the night, an injured officer was seen slumped against a building wall by Grand and Wabash avenues as other officers helped him. It's unclear at this stage what happened to him. Police spokesman Ahern had no information on the injuries.
The looting began just after midnight as rioters ran through broken store windows and doors along Michigan Avenue carrying anything they could get their hands on. Cars dropped off more people as the crowd grew bigger. At least one U-Haul van was seen pulling up.
The looting was centered around Streeterville and North Michigan Avenue, but some looting was reported on State Street in the Loop and on the Near North Side. By around 4 a.m. police started getting the mob under control.
Some vandalism however did continue into the daylight hours. The CTA suspended train and bus service into downtown during the morning rush as the Illinois state police blocked off ramps from expressways. Bridges across the Chicago River were raised, except for the one on LaSalle Street just for emergency vehicles only.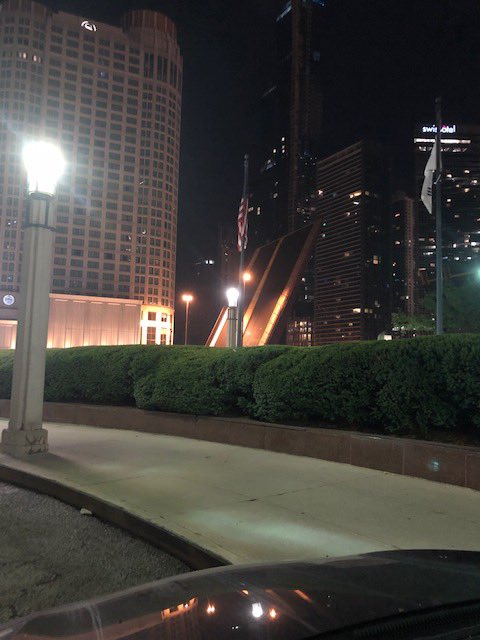 People were seen running out of a smashed up PNC Bank at Huron and State streets. Just down the block, other stores, including a Sally Beauty Supply, was completely cleaned out by the looters. Other parts of downtown, including around Grand and Wabash avenues, were covered with trash.
The mob also repeatedly tried to bash in the windows of the Omega watch store at Delaware Place and Michigan Avenue.
Looters went in and out through a broken window of the Louis Vuitton store along Walton Place across the street from the Drake Hotel. A squad car drove by and the looters quickly scurried away.
However, as the car rode off, at least one person attempted to have a crack and go into the shop. So the police returned.
"Go home!" One cop shouted.
"You go home!" Someone shouted, back at the officer.
Hours earlier, dozens of people faced off with police after officers shot and wounded a suspect Sunday afternoon in the Englewood neighborhood on the South Side.
Around 2:30 p.m the officers who were responding to reports of a young man with a gun saw someone who fit the description over near Moran Park in the 5700 block of South Racine Avenue. The man ran away and as he was being chased by police he turned around and fired at them, authorities said.
The man was taken to the University of Chicago Medical Center but his condition was not known.
More than an hour after the shooting, police, and witnesses said an angry crowd of about 30 people faced off against officers holding a police line near 56th and Aberdeen streets. Authorities said someone fed false information to the mob, including that police shot and wounded a child.
One officer was hit with pepper spray and a second officer suffered a minor shoulder injury. Two people were arrested and a police car was shattered by a brick, police added.
A large number of officers cordoned off streets in nearly every direction until the mob finally tired out and calmed down.
Help Milne News stay online and continue our great work in bringing you the News Reported Raw, Real and Truthfully…No BS…Any donation is greatly appreciated:
Thank you for your support.
Or Via Stripe: any kind of credit or debit card: Visa, MasterCard, American Express, JCB, Discover, and Diners Club. (NO SIGN UP REQUIRED)
Get the latest news delivered straight to your inbox for free every day by signing up below.