21 Young Men Accuse Lincoln Project Founder of Unsolicited Sexual Advances
3 min read
The New York Times released a scathing report detailing 21 men that have accused Lincoln Project founder John Weaver of dangling job opportunities and propositioning them for sex, including messaging a 14-year-old high school boy. One man said he had consensual intercourse with the longtime GOP operative in a hotel but never got a job out of it.
Others said John Weaver messaged them on Twitter, referred to them as "my boy," and asked about their genitals.
Weaver, who is married, said he took a medical leave from the Lincoln Project over the summer and  in a statement to Axios on Friday, he said he would not be returning.
He never left though, that was a lie.
In regards to the allegations, Weaver went the Kevin Spacey defense.
"For far too long I've tried to live a life that wasn't completely true," he wrote in the statement.
"I was lying to myself, to my family who gave me nothing but unconditional love, and to others, causing a great deal of pain to all.
"The truth is that I am gay. And I have a wife and two kids whom I love. My inability to reconcile those two truths has led to this agonizing place," he wrote.
Weaver claimed he viewed the exchanges as "consensual mutual conversations."
The longtime GOP operative had been a political strategist for George H.W. Bush, John McCain and John Kasich.
The Lincoln Project released a statement condemning Weavers actions.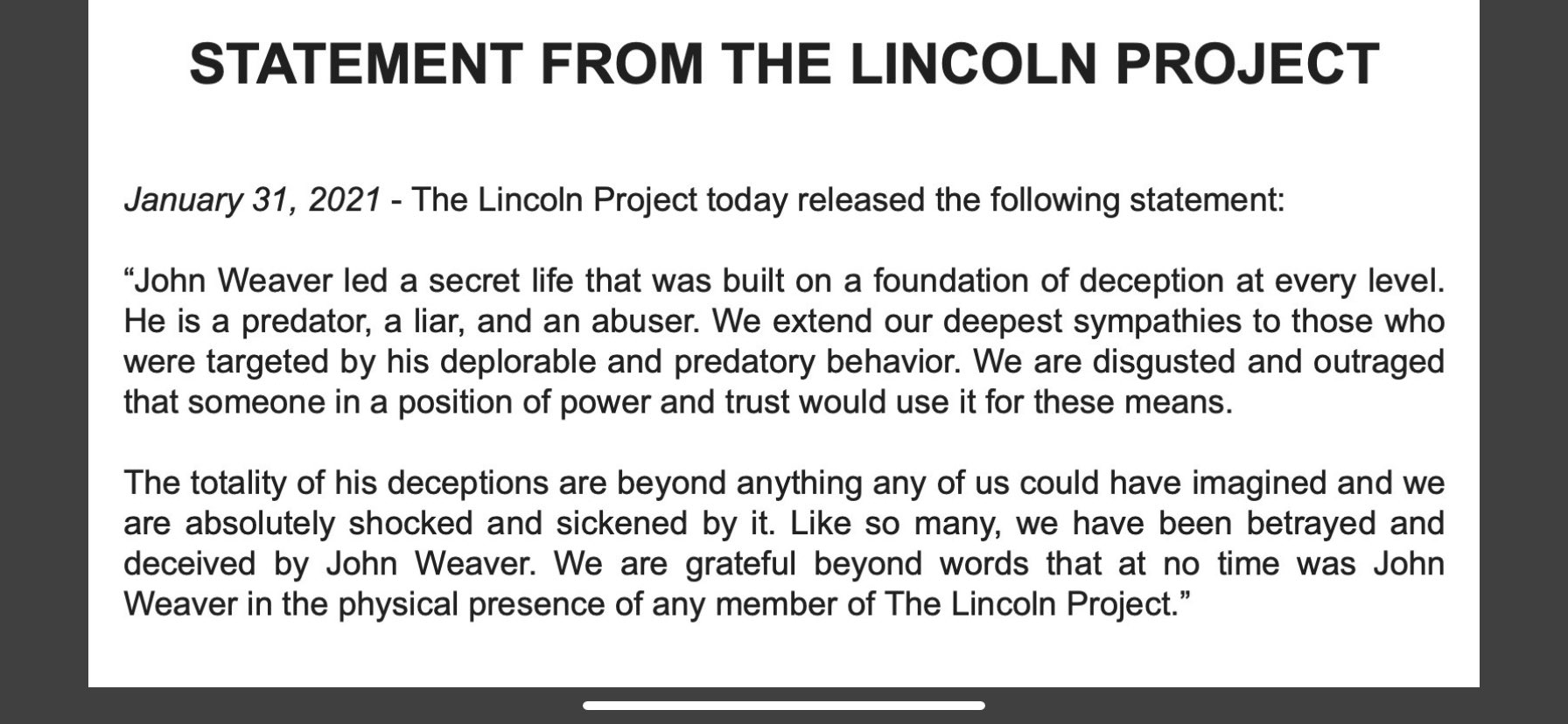 Lincoln Project co-founders claim they had no knowledge of Weaver's behavior but that is a lie, The Atlantic knew and told them in 2004.
Within this article about Karl Rove, Joshua Green writes: "Rove spread a rumor that John Weaver had made a pass at a young man at a state Republican function. Weaver won't reply to the smear, but those close to him told me of their outrage at the nearly two-decades-old lie."
https://www.theatlantic.com/magazine/archive/2004/11/karl-rove-in-a-corner/303537/
Over the years reporters have also contacted the Lincoln Project members:
Did The Media help Cover it up?
This new story about 21 men coming forward broke weeks ago and yet the media said nothing to any of the Lincoln Project founders or Weaver himself.
Rick Wilson, Steve Schmidt, and George Conway all appeared on MSNBC 17 times in the three weeks since the John Weaver story broke. Not one reporter asked them about the allegations.