Male High School Students Forced To Apologize To Female Classmates For "Behaviors Of Their Gender"
Male high school students at Brauer College, in Warrnambool, Victoria, Australia who were forced to apologize to female classmates for "behaviors of their gender" say their school made them feel like predators.
Brauer College, in Warrnambool in rural Victoria, made international headlines after all of their male students were forced to stand and offer a rape apology at last Wednesday's school assembly.
Year seven student Levi, aged 12, said the incident made him feel uncomfortable.
"They told us to stand up and turn to a girl in our class and say sorry," Levi told A Current Affair.
"I don't think it's okay to be sexually assaulted. I felt a bit under pressure to stand up and if I didn't I felt like I was a bad person."
Vini, another student, said many at the assembly were left upset and confused.
"I had girls behind me crying," he said.
"We had to apologise for stuff we didn't actually do."
Brauer College principal Jane Boyle refused to be interviewed when contacted by A Current Affair.
In a statement from the Victorian education department, on Ms Boyle's behalf, she admitted the assembly was "inappropriate".
Several parents have now complained to the department – which refused to answer questions about whether any staff would be reprimanded or counselled over the assembly.
Vini's mother Rebecca Hughes, said she's disgusted by what happened.
"All it's doing is saying they're perpetrators in the future, they are predators they are rapists," she said.
"The school's handled this in a very bad way."
Betty Checuti, a psychologist and the director of the Australian Association of Psychologists, said "It's just really important that boys, men aren't targeted because of their gender".
"It can leave men and boys feeling vulnerable," she said.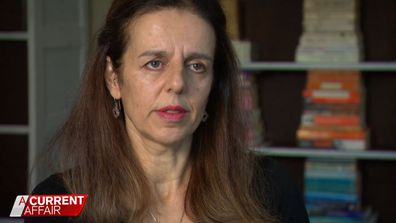 Statement by Brauer College Principal Jane Boyle:
"Schools play an important role in the promotion of safety and respect of all students, and discussions in schools around respect towards girls and women are a key part of this vital work.
"This week, at a whole school assembly, Brauer College discussed the topic of respect for woman and the importance of bystander behaviour and speaking up to report incidents of inappropriate behaviour.
"The assembly included the screening of a video message by Brisbane Boys' College Captain Mason Black about being proactive in stopping incidents of sexual assault and harassment.
"As part of this discussion boys were asked to stand as a symbolic gesture of apology for the behaviours of their gender that have hurt or offended girls and women.
"In retrospect, while well-intended, we recognise that this part of the assembly was inappropriate.
"Today, the school is contacting parents to explain the reasons behind the assembly and to ensure that any student who requires support is aware that it is available."