Trump Was Right, Leading Wuhan Virologist Does Have Ties To China's Military
In January, a Trump administration fact sheet accused China of "secret military activity" at a lab in Wuhan. Dr. Shi Zhengli, a leading researcher at the Wuhan Institute of Virology, keeps claiming it is a civilian institution, but NBC News found evidence of her connections with at least two military scientists. The media attacked Trump's claims 18 months ago and then again after the Jan fact-sheet was released.
Now they've bothered to look into it and found Trump was right.
Trump State Department released a fact sheet outlining that the Wuhan lab engaged in gain-of-function research AND also engaged in experiments with China's military as well as a report that the lab workers got sick in the fall of 2019,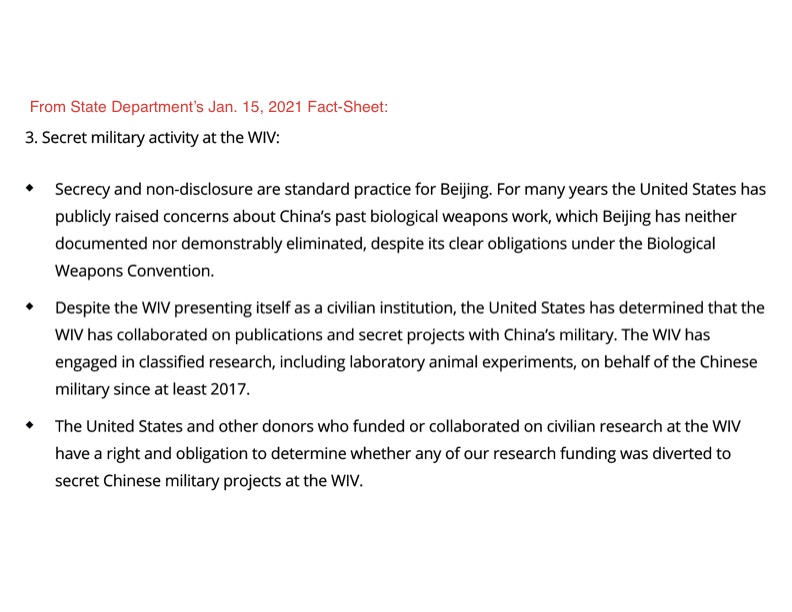 In March, Dr. Shi Zhengli, the Wuhan-based virologist who has been accused of conducting very risky experiments with bat coronaviruses, flatly denied allegations that the Wuhan Institute of Virology conducted studies with the military, an NBC News report said.
However, NBC reports that it has uncovered evidence linking Shi to military scientists. She collaborated with Ton Yigang, a military scientist, on coronavirus research in 2018 and then with Zhou Yusen, another military scientist in December 2019. Zhou who was listed as deceased in the footnote of an article published in 2020, the report said. The report said it could not confirm the cause of his death.
David Asher, a former State Department adviser who co-authored a fact sheet last January on activity inside the lab, told NBC News that he is "confident" that the Chinese military was funding a "secret program" that involved coronaviruses.
China has still failed to provide the raw data and access to sites that would allow a more thorough investigation into where the virus sprung from and how it initially spread.