Darrell E. Brooks identified as driver who plowed into Wisconsin Christmas parade
It has now been confirmed that at least five people were killed and more than 40 were injured after an SUV drove through a Christmas parade in Waukesha, Wisconsin, on Sunday, according to local law enforcement.
A terrifying video posted to social media shows a speeding red SUV colliding with a group of people marching in the middle of the street during the annual Christmas parade in Waukesha, some 20 miles west of downtown Milwaukee.
Police said reports the driver also fired gunshots were false; Cops tried to shoot the driver during the rampage.
A person of interest is now in custody, according to police. Despite earlier reports of gunshots, police said they do not believe the driver was armed.
A suspect identified as 39-year-old Darrell Brooks was taken into custody for plowing his red SUV through crowds at the parade. Police said they found his red Ford SUV parked in a driveway five blocks from where he drove through crowds of kids and elderly dancing groups.  
Police said Brooks was fleeing domestic dispute, and the attack was not fueled by terrorism sentiments.
The head of the fire department said earlier that 11 adults and 12 children were rushed to six different hospitals in the area. They include several elderly women who were part of a 'Dancing Grannies' float and members of a schoolgirls' dance team, according to reports.
18 kids have been admitted to the hospital, 6 of those are in ICU.
Waukesha police identified the fatal victims as Dancing Grannies Virginia 'Ginny' Sorenson, 79; Leana 'Lee' Owen, 71; and Tamara Durand, 52; and 82-year-old Wilhelm Hospel, the husband of one of the grannies.
Children's Wisconsin, a pediatric hospital in Milwaukee, said it was treating 15 patients who were hurt in the parade.
The driver that attacked the Christmas parade in Waukesha, Wisconsin, is Darrell E. Brooks, a black man in his late 30's, a repeat offender. He is currently in police custody.
Waukesha Police Chief Daniel Thompson confirmed this at a news conference Sunday evening that a person of interest had been taken into custody.
The 39-year-old was recently released on a $1000 cash bond in an unrelated case two days before the attack. In that case, charges include 2nd degree recklessly endangering safety & batter w/domestic abuse modifiers
At the 24:05 line in the police scanner audio from Wisconsin tonight, police said an Id belonging to a man named Darell Brooks was found in the SUV from the attack tonight. They said the license is suspended.
"Lighter skin, black male, dreadlocks, possibly no shoes"
Milwaukee County DA admits it was a mistake to grant $1,000 bail
District Attorney's Office admitted on Monday that it was 'inappropriate' for convicted felon Darrell E. Brooks to be let out of jail on a $1,000 bond three weeks ago after trying to run over his ex-girlfriend, as he was charged with five counts of murder for the lives he took at the Waukesha Christmas Parade on Sunday night. 
39-year-old Brooks was taken into custody in Waukesha, Wisconsin, on Sunday night after police found his red Ford SUV parked neatly in a driveway five blocks from where he drove through crowds of kids and elderly dancing groups.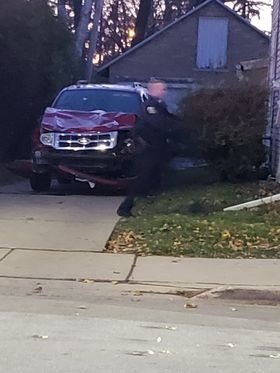 The wannabe rapper has quite a long criminal history dating back to 1999 with more than 15 arrests in the state of Wisconsin alone for charges including possession of drugs, strangulation, and suffocation, battery, illegally possessing firearms as a convicted felon and resisting arrest. 
On Sunday, he was apparently fleeing the scene of a domestic dispute when he plowed into the crowds after smashing through safety barriers and breezing past cops. One officer tried to stop him by shooting at his car but he stopped because there were too many people around for him to safely fire his weapon.
Police had just arrived at the home that Brooks had fled when he plowed into the parade crowds, killing five adults. The victims have been identified as Dancing Grannies Virginia Sorenson, 79, Leanna Owens, 71 and Tamara Durand, 52, Citizen Bank employee Jane Kulich, 52, and 82-year-old Wilhelm Hospel, the husband of one of the grannies.  The Waukesha Police Department has now arrested Brooks on five murder charges.
On November 2, he was arrested on domestic violence charges after trying to 'run over' his ex, the mother of his child, at a gas station. His bond was set at $1,000 and he posted it on November 11th.
On Monday morning, the Milwaukee County DA's Office released a statement admitting it was 'inappropriately low' given his criminal history. They said they'd launched an internal review as to why he was able to get out on bond to commit more crimes.
DARRELL BROOKS HAS A LONG AND VIOLENT CRIMINAL HISTORY
1999: Aggravated battery, Carrying a concealed weapon
Sentenced to two years in prison.
2000: Carrying a concealed weapon, loitering, resisting or obstructing an officer, possession of cocaine
Case was not prosecuted.
2002: Obstructing an officer, driving a vehicle without consent possession of THC.
Case was dismissed
2003: Resisting or obstructing an officer
Sentence: 20 days in house of corrections
Feb 2005: Resisting or obstructing an officer
March 2005: Receiving stolen property, possession of controlled substance
Case was dismissed
2009: Paternity warrant issued, resisting an officer
2010: Strangulation and suffocation, domestic abuse Battery, criminal damage to property
Sentence: Unknown
2011: Probation violation
August 2011: Failure to appear in court
September 2011: Paternity warrant
October 2011: Possession of THC
December 2011: Possession with intent (THC), bail jumping
Sentence: 180 days in jail with permission to work outside of jail on day release
2012: Bail jumping, failure to appear in court, resisting an officer
November 2012: Possession of THC
Over the next few years, Brooks lived in Nevada, where he was charged with having sex with a minor
July 2020: Possession of a firearm as a convicted felon
Endangering safety, reckless use of firearm (domestic abuse), possession of methamphetamine
February 2021: Paternity warrant served
November 2021: Domestic battery, bail jumping, endangering safety, disorderly conduct, resisting arrest
Bailed on November 11