What we know about the new 'highly mutated' Covid-19 'Omicron' variant
Currently known as B.1.1.529, the newly identified COVID-19 variant has now been detected further afield in Botswana, Hong Kong and now in Belgium.
The strain was scientifically named as B.1.1.529 on November 24, one day after it was spotted in Hong Kong, But after experts at the World Health Organization held an emergency meeting it was named the 'Omicron' variant.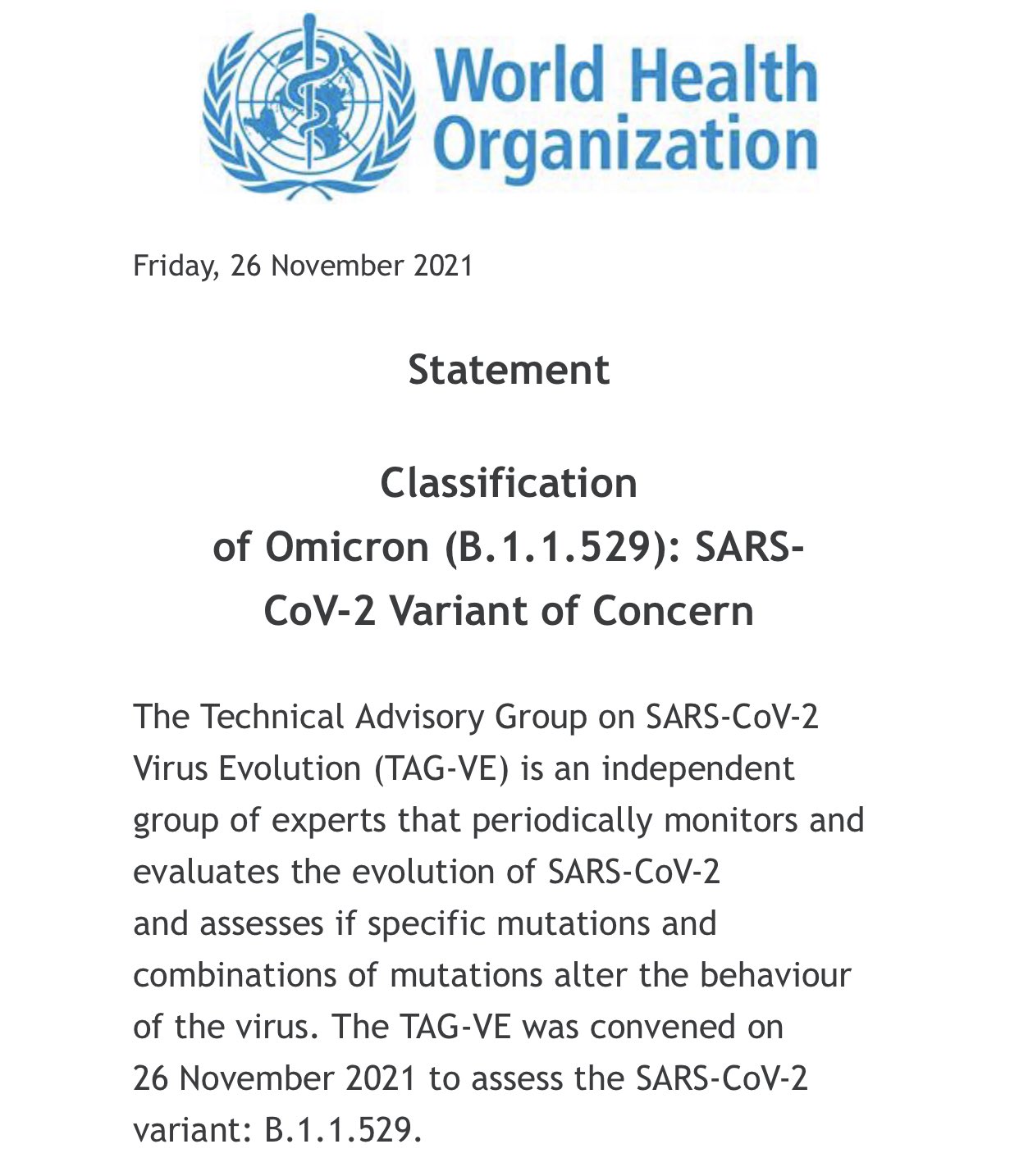 The new covid Omicron variant seems to be spreading rapidly in many parts of South Africa and scientists say they are concerned that its unusually high number of mutations could make it more transmissible and result in immune evasion.
"Initially it looked like some cluster outbreaks, but from yesterday, the indication came from our scientists from the Network of Genomic Surveillance that they were observing a new variant," Minister of Health Joe Phaahla said Thursday, stressing that it is currently unclear where the variant first emerged.
South African officials initially said there was only one confirmed case in a traveler from South Africa to Hong Kong. But then Hong Kong health authorities said on Friday that they identified a second case of the B.1.1.529 variant among returning travelers on the same floor of a designated quarantine hotel. Both are have had two doses of Pfizer.
Also on Friday, the Belgian government said that one individual who had recently arrived from abroad had tested positive for the new variant, marking the first case in Europe. This individual is unvaccinated.
Tulio de Oliveira, the director of South Africa's Center for Epidemic Response and Innovation, said the variant has "many more mutations than we have expected," adding it is "spreading very fast and we expect to see pressure in the health system in the next few days and weeks."
The World Health Organization (WHO) will hold a meeting on Friday to decide whether the B.1.1.529 variant should be considered one "of interest" or "of concern," designations that signify the amount of risk that it could pose to global public health. WHO added it would "share further guidance for government on actions they can take."
What we know about the new COVID-19 Omicron variant
The variant has a high number of mutations, about 50 overall according to experts. Crucially, South African genomic scientists said Thursday more than 30 of the mutations were found in the spike protein — the structure the virus uses to get into the cells that they attack.
It carries mutations P681H and N679K which are 'rarely seen together' and could make it yet more vaccine-resistant.
These two mutations, along with H655Y, may also make it easier for the virus to sneak into the body's cells.
And the mutation N501Y may make the strain more transmissible and was previously seen on the Kent 'Alpha' variant and Beta among others.
Two other mutations (R203K and G204R) could make the virus more infectious, while a mutation that is missing from this variant (NSP6) could increase its transmissibility.  
It also carries mutations K417N and E484A that are similar to those on the South African 'Beta' variant that made it better able to dodge vaccines.
But it also has the N440K, found on Delta, and S477N, on the New York variant — which was linked with a surge of cases in the state in March — that has been linked to antibody escape.
Other mutations it has include G446S, T478K, Q493K, G496S, Q498R, and Y505H, although their significance is not yet clear.
Neil Ferguson, the director of the MRC Centre for Global Infectious Disease Analysis at Imperial College London, said in a statement that the number of mutations on the spike protein was "unprecedented."
"The spike protein gene [is] the protein which is the target of most vaccines. There is, therefore, a concern that this variant may have a greater potential to escape prior immunity than previous variants," Ferguson noted.
Sharon Peacock, a professor of Public Health and Microbiology at the University of Cambridge, said that while the overall number of Covid-19 cases is relatively low in South Africa, there has been a rapid increase in the past seven days.
She said that while 273 new infections were recorded on November 16, the figure had risen to more than 1,200 cases by November 25, with more than 80% coming from Gauteng province.
"The epidemiological picture suggests that this variant may be more transmissible, and several mutations are consistent with enhanced transmissibility," Peacock said in a comment shared by the UK's Science Media Centre.
She added that while the significance of the mutations and their combination is unknown, some of those present in the latest variant has been associated in others with immune evasion.
Where has the new COVID-19 Omicron variant been detected so far?
The variant has so far been spotted in five countries: South Africa, Botswana, Hong Kong, Israel, and Belgium. 
Most cases have been spotted in Gauteng, a province in northeast South Africa where Johannesburg is based.
The first case was uploaded to the international variant database GISAID by Hong Kong and was spotted by someone who traveled to the country from South Africa.
No cases have been seen in the UK. But scientists do not sequence every positive Covid sample in the UK and not everyone who catches the virus will take a test.
This means there could be people infected with the variant in Britain.