Buffalo shooter Payton Gendron posted a white supremacist manifesto online
The teenager who killed 10 people in the Buffalo supermarket massacre posted a manifesto that spewed a racist philosophy and outlined his plans step by step.
18-year-old Payton S. Gendron was arrested and arraigned in court on Saturday on first-degree murder charges after 10 people were killed in a shooting at a Buffalo supermarket, according to The Associated Press
Of the 13 people he shot at the supermarket, 11 were black, officials said, including a hero security guard and former Buffalo cop who was among those killed.
He uses almost 100 pages to describe his guns, body armor, gear and clothing choices. The manifesto includes photos of sketch comedian Sam Hyde holding a gun.
Payton Gendron, who officials said traveled "several hours" claimed in a 180-page manifesto that he was "radicalized" on the internet while he was bored during the early days of the pandemic, not by any people he has met personally.
Through his "research," the self-described white supremacist and anti-Semite said he came to see low white birth rates around the world as a "crisis" that "will ultimately result in the complete racial and cultural replacement of the European people," he wrote.
Investigators believe the manifesto is authentic and matches key personal details of the suspect and how the crime unfolded, They are still waiting to get a computer owned by Gendron, the sources said.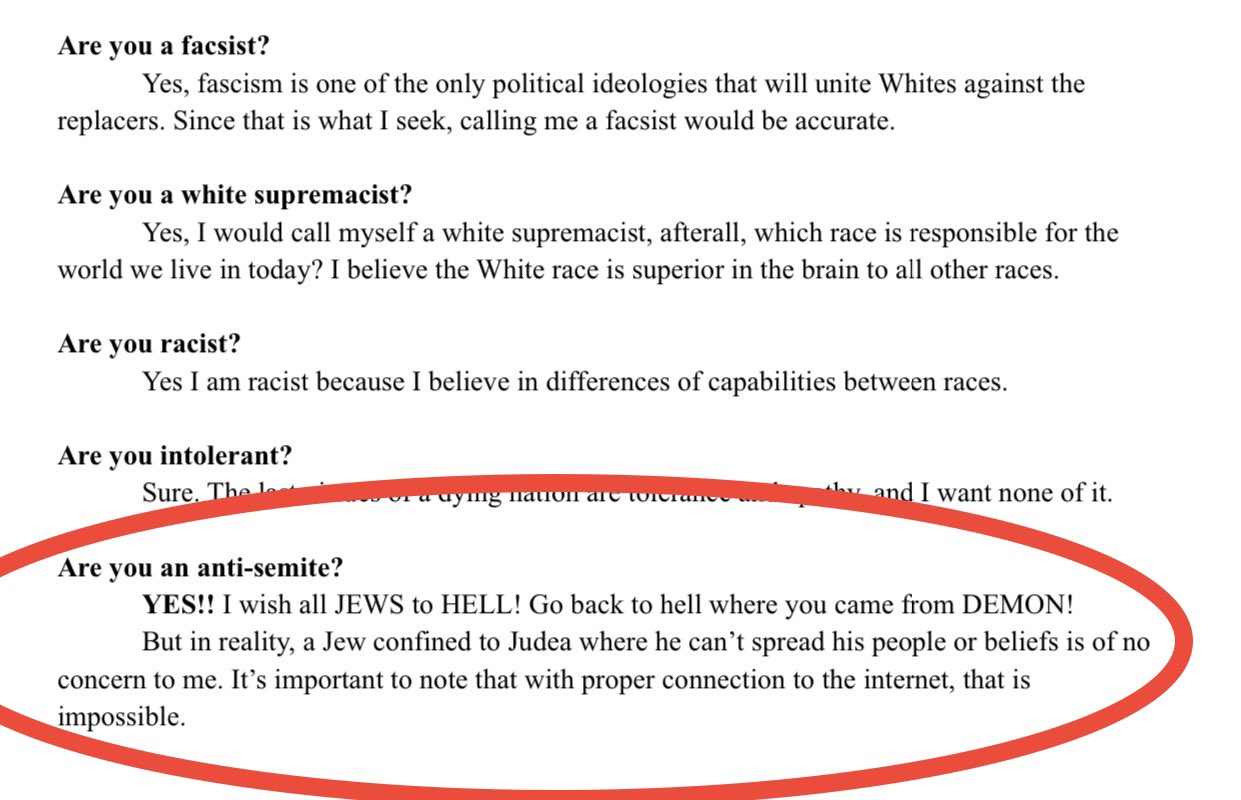 He mentioned other racially motivated killings and said he "mostly agreed" with Brenton Harrison Tarrant, who live-streamed his own attack that killed 51 people attending a New Zealand mosque in March 2019.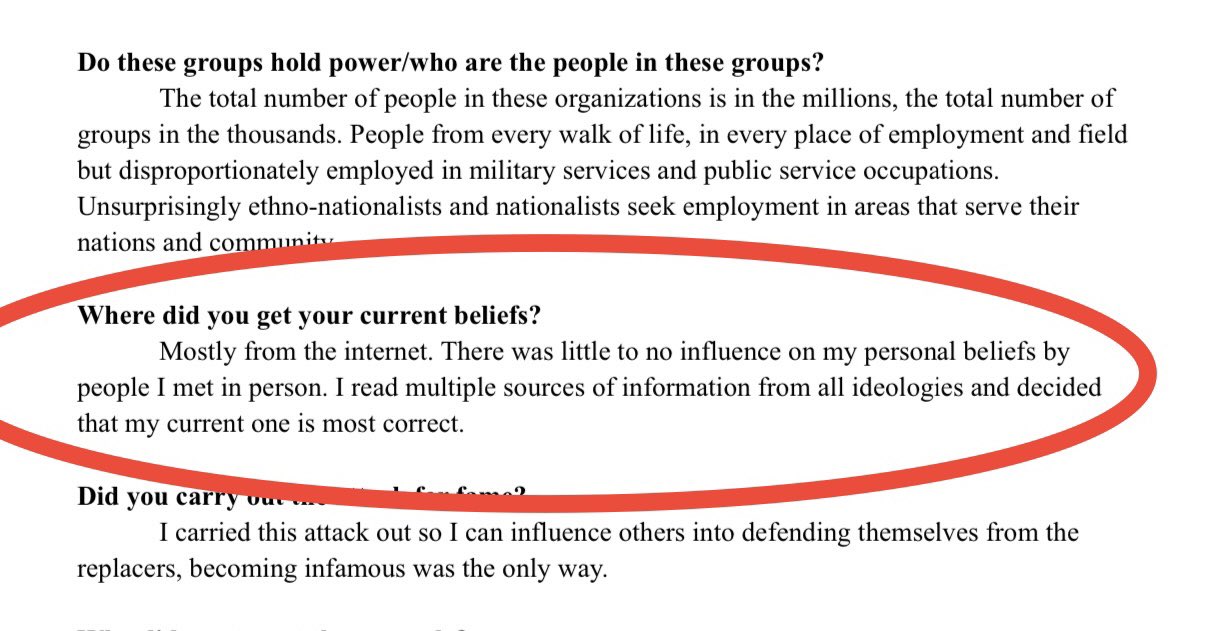 He said he started planning the attack in January and chose the Tops Supermarket in Buffalo because "it has the highest black population percentage" by Zip code and it wasn't far away from his Southern Tier home. A section of the manifesto details his step-by-step plans for the day, including the corned beef hash he would eat for breakfast, how he would drive to Buffalo and scout out the supermarket, the way he would wear his body armor and carry his gun and how he would post a livestream online.
He allegedly carried out the attack at 3 p.m. instead of the planned 4 p.m.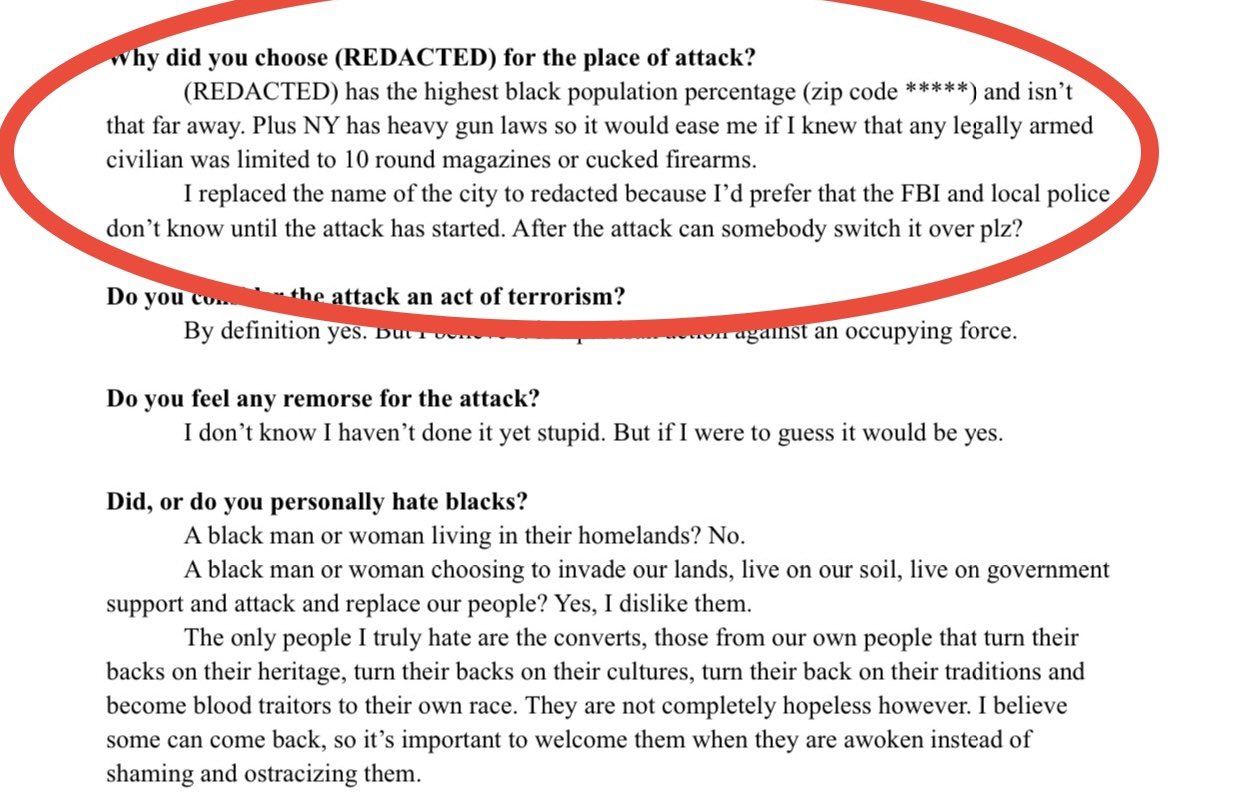 He claimed to be an "INTJ" personality type and included photos of a fake active shooter that often circulate online after mass shootings. The manifesto contains many pages of anti-Jewish memes and graphics.
The manifesto states:
Why did you decide to carry out the attack?

To show to the replacers that as long as the White man lives, our land will never be theirs and they will never be safe from us.

To directly reduce immigration rates to European lands by intimidating and physically removing the replacers themselves.

To intimidate the replacers already living on our lands to emigrate back to their home countries.

To agitate the political enemies of my people into action, to cause them to overextend their own hand and experience the eventual and inevitable backlash as a result.

To incite violence, retaliation and further divide between the European people and the replacers currently occupying European soil…

To add momentum to the pendulum swings of history, further destabilizing and polarizing Western society in order to eventually destroy the current nihilistic, hedonistic, individualistic insanity that has taken control of Western thought.